XTREME HOBBIES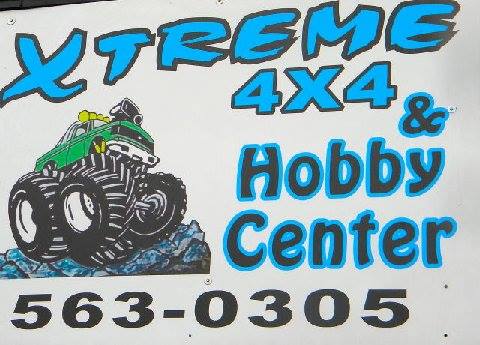 Xtreme Hobbies is a full service R/C shop inside of Xtreme 4x4 Center! We carry R/C Vehicles as well as parts and accessories! We specialize in Rock Crawlers and Trucks! We have a huge selection of parts for Traxxas and Axial. Looking for custom accessories, well we specialize in those! Xtreme is now in its 22nd year!
---
RockCrawling Vehicles
---
TRAXXAS TRX-4 Scaler U
nderneath the authentic scale lo

The Traxxas TRX-4 trail truck is loaded with features that make it a one of a kind Scale Crawler! From the portal axles to the high range / low range transmission! Super detailed body with flares, roof rack, ladder, spare tire, etc.

​The TRX-4, a truely capable out of the box crawler!

u to new places and new adventures. Exclusive portal axles deliver maximum ground clearance that dramatically turns "no way" into "no problem." Whether you are enjoying outdoor trails oed driving versatility.

​The New 1979 Bronco version just released!

The New Axial SCX10 II Trail Honcho
Yep, its back! Now in the more capable SCX10 II platform!


When it's time for adventure, you want a rig that allows you to think the unthinkable and go out and accomplish it. The SCX10™ II Trail Honcho™ is all about exploring the full size world in scale, making it a true adventure machine.

Equipped for heavy duty trailing – AX10™ transmission, single-piece AR44 axles, Method Hole wheels, Falken Wildpeak M/T tires and a set of four LED lights – the Trail Honcho™ takes the lead and puts your stamina to the test.

The New Axial SCX10 II Wrangler CRC now in stock!

The 2017 Jeep® Wrangler Unlimited CRC edition builds on the wildly popular SCX10™ II chassis, a proven platform that includes unique features that have made this truck a top performer in its class. High-clearance AR44 high-pinion axles, a chassis mounted servo (CMS), re-designed AX10 transmission case and tough steel suspension links are just a few of the performance parts tucked away under the detailed Jeep® Wrangler Unlimited body.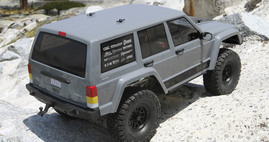 Axial SCX10 II RTR
The SCX10 has been the vehicle of choice for scale trail fun! For the past 8 years the SCX10 has been the staple vehicle platform for scale trail enthusiasts around the world. Axial was one of the first companies to embrace R/C rock crawling and the first to mass produce a scale trail truck. Axial has been watching trends, tirelessly testing, and experimenting to create the next evolution of the SCX10. The SCX10 II is the culmination of many years of development, furthering aesthetic realism while maximizing trail performance. The next generation of SCX10 is here!
---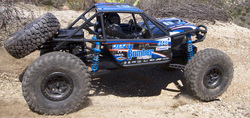 Axial Bomber
The Axial RR10™ Bomber is not just another plastic tube chassis Wraith update – it merely adds to our line of successful 2.2 rock racing vehicles. While visually this rig is a race replica of the Bomber Fab KOH rock racing rig, one of the unseen features is the front mounted battery tray under the hood making for easy access and weight right where you asked for it! This makes swapping the batteries in this rig a quick and easy process, especially for those enthusiasts participating in the ultra endurance series within Axialfest! The skid plate provides a centralized location for the electronics with clean wire routing and an RR10™ specific transfer case for optimal driveline efficiency. We've also included a full set of BFGoodrich® BAJA T/A® KR2 tires along with a spare in the back, wrapped around officially licensed Walker Evans Racing wheels.
---
---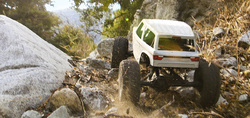 Axial Wraith Spawn

The Axial Wraith™ Spawn is packed with performance features. This full bodied version Wraith retains many of the components that made this vehicle famous. The virtually bulletproof AR60 OCP axles are ready take the Spawn through its paces whether blasting through the wide open desert or hammering its way through the toughest rock trails. The Ripsaw™ 2.2 tires are a proven true grip standard, wrapped around industry proven Method IFD™ beadlock wheels. Whether you are rock racing or just backyard bashing, the Wraith™ Spawn is ready for action.


---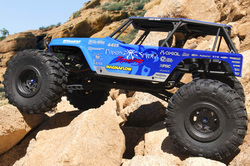 Axial Wraith Rockracer

The Jeep® Wrangler Wraith™ is ready for rock spitting, dirt slinging, action. It's designed to tackle the rocks with ease and blast across open desert at full attack speed. The bottom line, the Wraith™ is tough as nails and prepared for any terrain.


---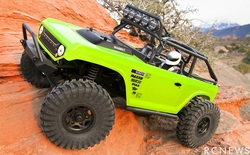 Axial SCX10 Deadbolt
The SCX10™ platform is an already proven chassis-of-choice for scale enthusiasts around the globe. For this new version, Axial has taken the popular Deadbolt™ body from the AX10™ chassis and placed it on the SCX10™ which gives it a cool scale appearance and, for existing customers, a new factory body choice. The Deadbolt™ body with realistic driver figure, Maxxis Trepador tires and Walker Evans wheels


---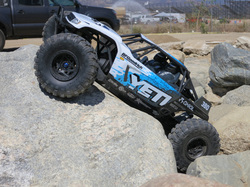 Axial Yeti
The Yeti™ is a skillfully engineered rock racing vehicle with a solid rear axle and independent front suspension. It's built to withstand the punishment of rock racing at a high level of performance. Its distinct aesthetic and technical elements were inspired by full-size desert trucks and various off road vehicles. The Yeti™ is a no-compromise mix of speed and handling unlike any other R/C vehicle. Its strategically engineered design supplies bashing stamina while delivering a high level of technical rock racing abilities without compromise in either category. It's powered by a 3150KV 4-pole brushless motor which provides the perfect amount of torque and speed for this rock racing monster.

---
---
​Vaterra R/C

The Vaterra Ascender
Pickup gives you the pro-built, bed cage look, in a fully ready to run package. This incredibly scale recreation of a customized pickup is a tribute to the rigs built by custom visionaries. Using the proven Vaterra Ascender chassis, it is ready for scaler competition out of the box, and even includes a functional spare tire and wheel! Combine this with waterproof electronics, aluminum panels and licensed Super Swamper tires and you have a recipe for fun on the rocks.
Twin Hammers


Independent cantilever front suspension
4-link, solid-axle rear suspension
Adjustable, oil-filled, aluminum, coil-over shocks
Waterproof electronics (see manual for more details)
Spektrum™ DX4C 2.4GHz 4-channel computer transmitter
Scale lights, cockpit and body panels
Shift-on-the-fly, two-speed transmission
Dynamite® waterproof ESC
Dynamite 15-turn brushed motor
Brushless-ready drivetrain
12mm wheel hexes
Dynamite 2S 7.4V 2000mAh Li-Po battery
Dual-position battery tray for use with optional batteries
Beadlock wheels with Race Claw 1.9 scale tires
Molded chassis and multi-piece roll cage
Compatible with AVC technology
RockCrawling Accessories
Xtreme Hobbies is a stocking dealer for Vanquish Products! Check these parts out!​​
---
RockCrawling parts and accessories are always in stock at Xtreme Hobbies! We keep a big selection of Tires from Proline, RC4WD, Axial and in soft and super soft compounds. We also keep Wheels, H/D Servo's, ESC w/ drag, Links, Steering, Bodies and much, much more!!
---
Custom RockCrawlers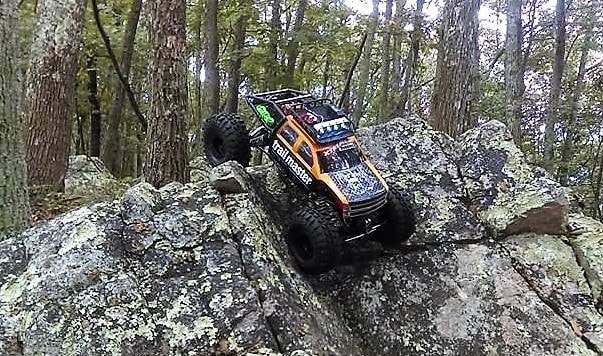 Xtreme Hobbies builds custom, modified Crawlers! Its our speciality! We can modify your truck, or start one completely from scratch. We know what it takes to make a crawler work and how to make a trail truck perform. Years of experience will make a difference on a truck that just goes, and one that will climb anything thrown at it!
---
---