---
Diesel Jeep ​This Jeep JK8 truck with Cummins conversion is for SALE! SOLD!
---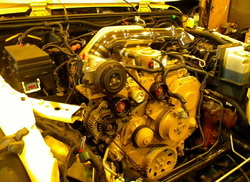 Xtreme 4x4 Center does Diesel engine conversions on Jeep Wranglers! Some of the benefits to this conversion are better fuel economy, try 18-20mpg around town, better on highway!
This conversion isn't for everyone, but if you want a Diesel Jeep, better mileage, better off-road capability and of course having the coolest Jeep around, then this is 100% for you!

disclaimer: This conversion is for Off-road use only due the Federal air laws! Check with your local DMV.


---
---
Xtreme uses the Cummins 4BT engine. These are usually found in equipment, commercial air-compressors, Off-road equipment, commercial generators and many other types of vehicles like a Oshkosh dump truck that Xtreme's engine came out of. These are Turbo engines and make good power and can make way more with a little work. We install the engine using heavy-duty hydraulic mounts to keep engine vibrations down to a minimum!

Xtreme uses a heavy-duty 4l65e transmission which is considerably stronger than a 4l60. The 4l65e has a 5 gear planetary, hardened sun-shell and other internals that make this a very good selection for a transmission! We then use a billet Flexplate and Adapter to mate up to the engine. No weak wave-ring used here! Xtreme 4x4 has a heavy-duty, low stall convertor custom made to order, then a Compu-shift II is wired into the system to shift it all. This is the industries best stand alone computer to shift your electronic trans.

Of course there are quite a few other items needed to complete the conversion and Xtreme 4x4 has them ready to go! There are a few mechanical issues to work out when you tackle this conversion, but Xtreme 4x4 has all that worked out and handled. We don't recommend this as a backyard job! Call Xtreme 4x4, or come by to discuss your Jeeps conversion! Prices start at $16,000 for a complete conversion and all components needed!

Here are some of the components used in this conversion!





---
---
---