​Here is our Rat Rod in its present state! Its a 1928 Ford Model A Tudor. The car was built here at Xtreme 4x4 Center by Sam and mechanic Randy. Any Hot Rod or Rat Rod built here is usually under the name Rat Rod Boulevard!
The modifications to this car are a 6" chopped top, 6" channeled frame and a 3" section job out of middle of car. That's 15" taken out of car, plus its on Air-ride. This is how you get a sedan this low!​
​Its powered by a Chevrolet 350/290 hp engine and backed with a TH350 trans.
---
​ These pic's will show how we took our frame we were already using for our truck, then how we lengthened it and added a custom rear link system of our own design. Lower adj. links and a custom single upper link with panhard bar setup. We added Ride-Tech Shockwave (billet shocks/airbags in one) for space reasons!
​Next we installed the air-tank, air compressor, all air fittings & electrics for air system along with our fuel tank in the rear of this car. Quite tricky when you consider the frame sets right under the rear window!
​This system works and rides great and will put the body right on the pavement!
---
---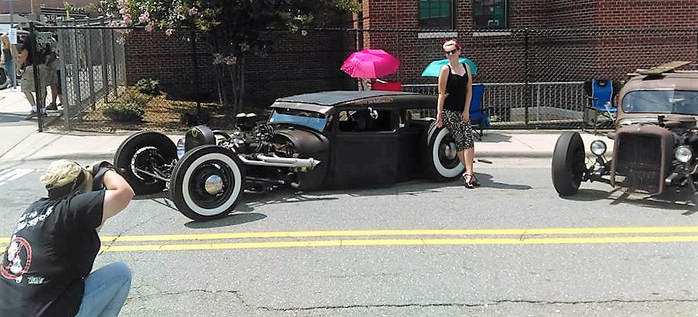 Heres the completed Car! This picture is at the Heavy Rebel show during a Pinup shoot.
---
---
​Don't forget to purchase your Rat Rod Boulevard Shirt!