Its here! The New Traxxas Bigfoot Classic!​
---
| | |
| --- | --- |
| ​BIGFOOT® is "The Original Monster Truck". This is the truck that started the monster truck phenomenon and brought car-crushing fun and excitement to fairgrounds and arenas everywhere. Traxxas faithfully captures the spirit and classic look of BIGFOOT No. 1 in amazing detail with this fully licensed replica. Relive the thrill of your first monster truck event with this classic powerhouse. Hammer the throttle for non-stop wheelies and crush the competition underneath its towering stance. Built Traxxas Tough™ for all-day fun, BIGFOOT comes out of the box fully assembled, waterproof, and Ready-To-Race®.​ | |
Traxxas X-Maxx
---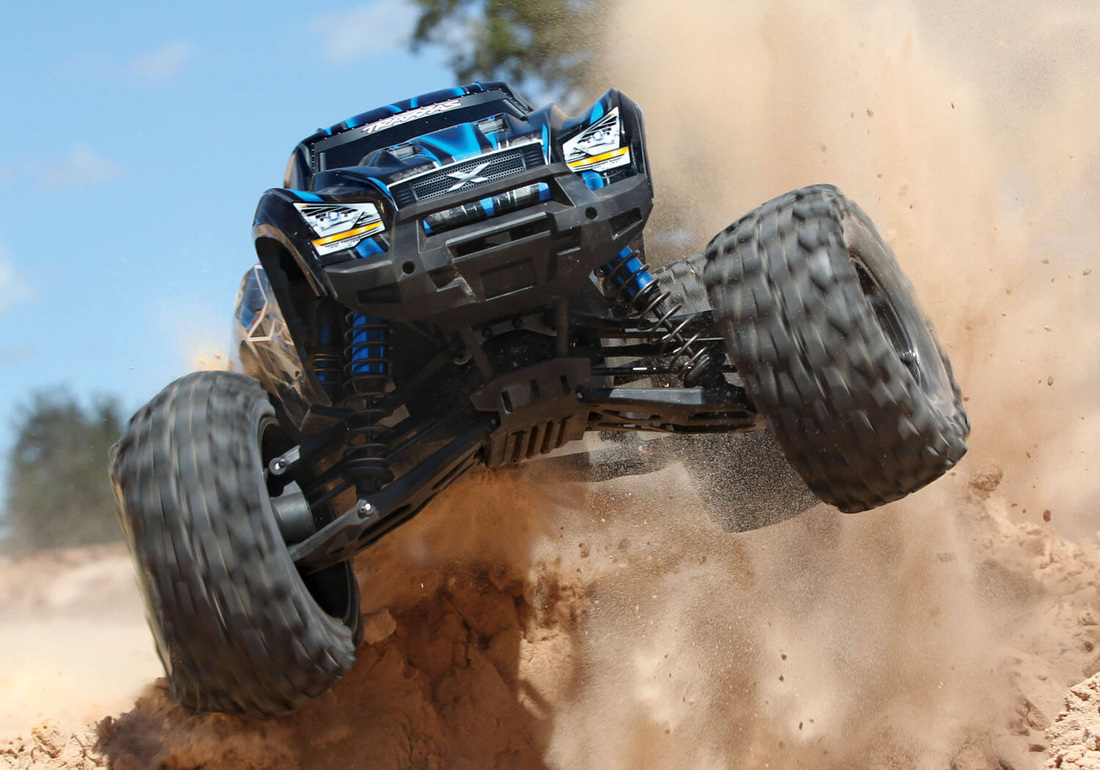 X-Maxx is an all-new, clean-sheet design, engineered from the start to take Traxxas Tough to a whole new level. Unrelenting 4X4 power, mammoth size, and ferocious determination makes this mighty monster a truly worthy successor to the Maxx legacy.

Exclusive Self-Righting
Before X-Maxx, monster trucks would sometimes roll over upside down, bringing the action to a screeching halt. Now, press a button and in most cases this exclusive patent-pending Traxxas innovation flips X-Maxx back over onto its wheels so that you can quickly get back to having fun.

Size Wins!
X-Maxx is enormous. Size wins by giving you the advantage to power over and through extreme landscapes. Mammoth 8-inch tall tires, long-arm suspension, and huge ground clearance dwarf the surroundings for virtually unstoppable Monster truck fun.

Extreme Power

Wildly over-powered, X-Maxx stays true to form with its Maxx DNA. 6s 22-volt dual-LiPo muscle and a Velineon 1600XL Big Block motor propel X-Maxx with brutal authority and an exacting quickness that completely defies its enormous size.


---
---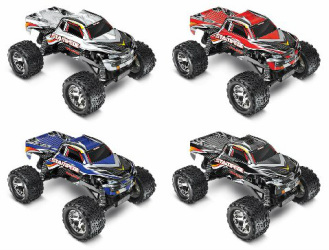 Traxxas 2wd Stampede

Best selling truck! Tons of fun, jumps like a cat! Great for any age!

30+ MPH out of the box! Ready to run w/ battery and charger!

NEW LOWER PRICE!!

Was $239.00 NOW $199.00 RTR




---
---
---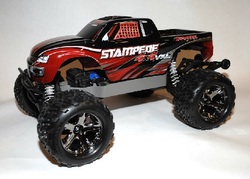 Traxxas Stampede 4x4

4-wheel drive action available in brushed or brushless!
Choose the brushed for 30+ MPH and to keep cost down!
Choose brushless for 45+ MPH and crazy power!
Prices start at $299.00 & up!


---
---
Traxxas Slash
---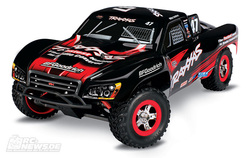 Traxxas Slash 2wd

Choose the brushed version for 30+ MPH and to keep cost down!
Choose the brushless version for 45+ MPH and wild track excitement!

Prices start at $229.00





---
Traxxas Slash Ultimate
---
Top-of-the-line! This truck has it all. Blue Alloy hubs, Blue Alloy castors, Sway-bars, Big bore Aluminum shocks, Velineon Brushless system, TQi docking radio, battery, charger, and the list goes on and on!

Start with this Slash, and upgrade nothing! She's all race right out of the box!




---